Compliance refers to conforming with regulations, and guidelines relevant to a particular industry, business, or activity. Compliance is crucial for organisations to ensure that they are operating within legal and ethical boundaries and to minimise the risk of penalties and sanctions.
Compliance is not a one-time responsibility but an ongoing process that requires continuous monitoring to ensure the organization remains compliant. Failure to comply can result in significant financial and reputational harm to the organization, as well as serious consequences such as fines, sanctions, and even criminal charges.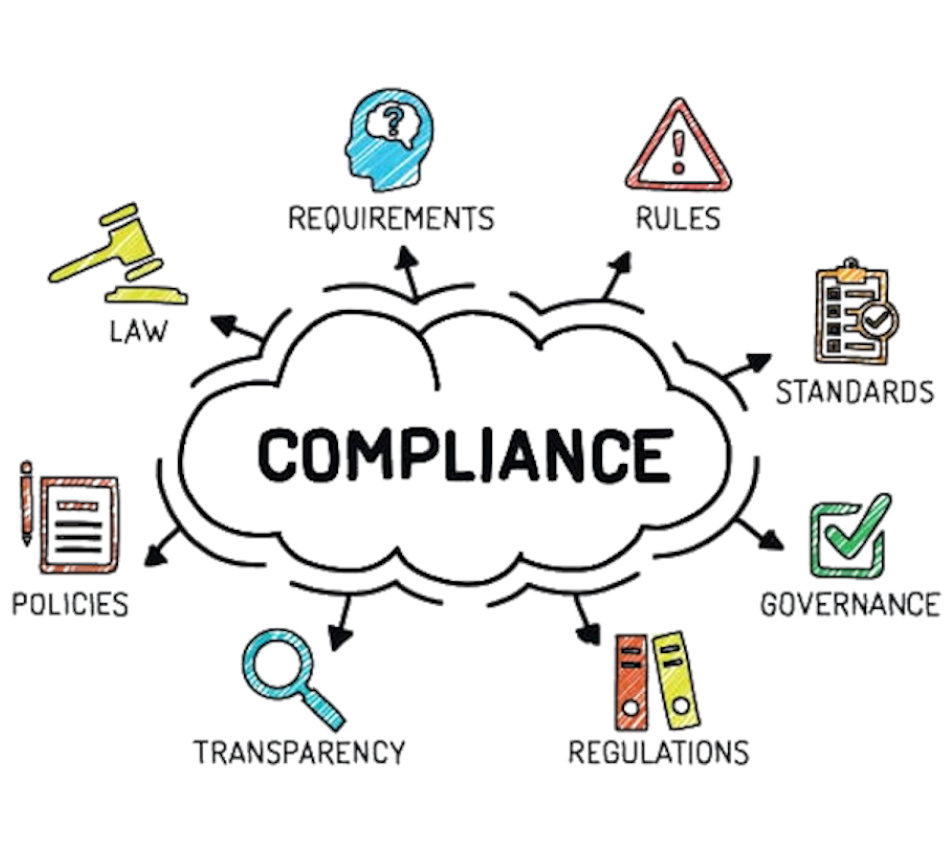 Our Compliance Services
What We Do
Our team of experienced compliance experts work closely with clients to understand their compliance needs and requirements. We provide customized solutions that are tailored to meet the unique needs of each client, ensuring that they stay compliant with all relevant regulations and requirements.
Our solution includes services such as compliance program development, policy and procedure review, risk assessments, training and education, and ongoing compliance monitoring and reporting. We use the latest technology and tools to provide our clients with real-time access to their compliance data, allowing them to track their compliance status and make informed decisions.

At our core, we are committed to providing our clients with tailored solutions that meet their specific needs. Our team works closely with clients to understand their business operations and compliance goals, and we strive to develop practical, effective solutions that mitigate risk and improve overall compliance.
We understand that compliance can be a daunting task for businesses, which is why we are here to help. Our team provides personalized attention and support to our clients, offering guidance and expertise every step of the way.
Reduced compliance risk.
Improved efficiency, allowing clients to focus on core activities.
Cost-effective, and eliminates need for expensive resources.
Expert guidance, to ensure clients are always up-to-date.
Expertise: 6AMLD, BSA, PCI DSS, SOX, CCPA and GDPR.
Are you looking for a
Compliance Consultant?
Schedule your compliance consultancy session right now!
We offer a wide range of services to assist clients in various industries and include compliance program development, risk assessment, policy and procedure review, and training and education.
NetPay's compliance team has extensive experience working with businesses across various industries, including healthcare, finance, and technology. We are committed to providing high-quality, personalised service to each client.
01
Risk Assessment
Conduct a thorough risk assessment to identify areas where your business maybe vulnerable to regulatory or compliance risk.
02
Policy Development
Develop company policies and operating procedures that align with regulatory requirements and best practices in the industry.

03
Implementation
Train your team to implement policies to meet compliance responsibilities and follow processes to stay compliant.
04
Audit
Prepare for initial and periodic audits, and ensure availability of all documentation to demonstrate on-going compliance.